Lying only one mile from the centre of the historic market town of Tavistock and a warm welcome awaits you at our club.Tavistock is well known for its range of independant and specialised shops. Each weekend there is a different themed market held within the town's pannier market.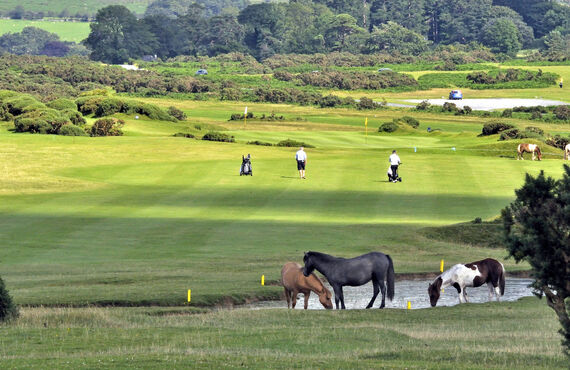 Most golf courses have some unique features but lying on the western slopes of Dartmoor, within the national park boundary has the added attraction of being in an area of outstanding beauty. A possible distraction for the most dedicated and committed golfer! With its wide fairways and sweeping vistas the course looks deceptively simply but its offers a challenging test for the unwary golfer.
Nature has provided its own hazards at Tavistock, with thick gorse and bracken, plus the odd clump of scrubby trees. There are also cunningly hidden bunkers that can trap the most proficient golfer. The thin soil not only provides tight lies, it also makes the greens lightning fast. Because of the thin soil the course and greens drain very quickly allowing year-long play - we aim to play a full course all year with no temporary greens or tees at Tavistock.
A guide to how the golf for the men, ladies and juniors is organised at and an indication of our social activities please click on - this link.
Please visit How to Find Us for precise information on our whereabouts and also view the course from above using Google Map features.
You may wish to contact the club office to discuss your visit or about becoming a member.